About
Sepsis Innovation Collaborative (SIC) is organized into several community groups, each focused on a specific priority issue area. The Sepsis Data Community (SDC) is an SIC member initiative dedicated to addressing the critical need for enhanced data in sepsis prevention, diagnosis, treatment, and support for survivors.
In order to combat sepsis, we need information to help us better understand it. We still don't know why some people develop sepsis and others do not; we don't have a clear picture on how survivors' recoveries are progressing; and we don't know what treatments are working best for which populations. Without good data, we are limited in our ability to improve sepsis prevention, diagnosis, treatment, and support for those affected by sepsis. We can't manage what we don't measure.
Because we can't manage what we don't measure. Sepsis is an epidemic hiding in plain sight — and to fight an epidemic, scientists, researchers, and caregivers need to understand it.
Reliable and privacy-protected data about sepsis would enable us to:
Improve time to diagnosis;
Understand which treatments lead to the best health outcomes;
Inform who is most at risk of sepsis and why;
Target our use of antibiotics and other antimicrobials, for more effective stewardship;
Identify disparities in access to care/services and focus equity initiatives;
Better understand SARS-CoV-2 and other new, existing, and novel infections and how they contribute to the onset of sepsis;
Innovate and deliver tools for better sepsis outcomes.
1.7 million Americans are diagnosed with sepsis every year, and 350,000 of those Americans die – more than from prostate cancer, breast cancer, and opioid overdoses combined. Patients with sepsis are often readmitted to hospital within 90 days, have an increased risk of mortality for up to two years after a sepsis diagnosis, and many survivors live with lasting after-effects like amputations and PTSD.
COVID-19 causes many cases of viral sepsis; many COVID survivors are sepsis survivors. And both COVID and sepsis have a disproportionate impact on communities that have historically lacked access to quality healthcare. For all these reasons, it's critical to create the essential foundation for a data-driven approach to sepsis prevention, diagnosis, treatment, and care.
We need better sepsis data; data that is better organized, better integrated, and more useful to patients, providers, and researchers.
To accomplish this will take time and the coordinated efforts of all stakeholders.
Mission
The SDC was established to foster collaboration and innovation among diverse stakeholders to advance the availability and quality of data-driven solutions to improve sepsis outcomes, enhance patient care, and promote the well-being of sepsis survivors. 
Get Involved
SDC relies on engagement with the broader stakeholder ecosystem to achieve its mission. Opportunities will be posted here as they become available, or contact us directly at theymann@sepsis.org to explore opportunities to engage SDC. 
Resources
In the News
Article: Stakeholders Seek to Create National Sepsis Data Trust
JAN 19, 2022 The NSDTI's goal is "to help researchers, patients, innovators, and caregivers to better understand sepsis, and therefore to improve its diagnosis and treatment," reports Healthcare Innovation Group in its write-up of the initiative. Read the whole piece here.
Listen: The Health Design Podcast
JAN 16, 2022 Jason Crites, Founder/CEO of Assurance Health Data (AHD)In his interview with The Health Design Podcast, Founder/CEO of Assurance Health Data (AHD) Jason Crites mentions NSDTI as a key example of what's on the horizon for the health data landscape. "Sepsis Alliance has publicly stated that they have a desire to have a national patient data trust," he says. "That will allow people to have the data in a safe, secure, patient-first type of mindset." Listen to the full interview here.
Article: Sepsis: Standard of Care Fails While Novel Meds and Diagnostics Go Unused.
APR 4, 2021 "'One of the things missing from the sepsis conversation is data. We don't have the data to advance clinical practice and innovation because it's siloed among the states (and healthcare systems),' and the players aren't talking to one another, Thomas Heymann, president and CEO of the Sepsis Alliance, told the Salon audience." To read the full write-up in BioSpace, click here.
OP-ED: A National Sepsis Registry Could Help Defeat Sepsis, a Big Contributor to Covid-19 Deaths
JUN 9, 2020 Steve Q. Simpson, Karin H. Molander, and Rommie Duckworth authored a STAT op-ed outlining the need for a national collection of sepsis-relevant data. To read it, click here.
Sepsis Data-Related Studies
Using Claims Data for Sepsis:
Sepsis Among Medicare Beneficiaries: 2. The Trajectories of Sepsis, 2012–2018*, Buchman, TG, Simpson, SQ, Sciarretta, KL, et al.  March 2020.
Read More
Sepsis Among Medicare Beneficiaries: 3. The Methods, Models, and Forecasts of Sepsis, 2012–2018*, Buchman, TG, Simpson, SQ, Sciarretta, KL, et al. March 2020.
Read More
Difference Between Clinical and Claims Data:
Incidence and Trends of Sepsis in US Hospitals Using Clinical vs Claims Data, 2009-2014, Rhee, C, Dantes, R, Epstein, L, et al. Sept 2017.
Read More
Comparison of Trends in Sepsis Incidence and Coding Using Administrative Claims Versus Objective Clinical Data, Rhee, C, Murphy, MV, Li, L, et al. Jan 2015.
Read More
The impact of an electronic medical record surveillance program on outcomes for patients with sepsis, McRee, L, Thanavaro, JL, Moore, K, et al. June 2014.
Read More
Other Resources
Summary of Proceedings: 2023 Sepsis Data Roundtable
In May 2023, Sepsis Alliance hosted a follow-up to the January 2022 roundtable, advancing the recommendations from the inaugural roundtable by creating the Sepsis Data Community with representation from public and private-sectors, patients, and survivors, establishing a stakeholder-led process for addressing operational questions critical to a data trust, initiating processes to develop and prioritize use cases, and harmonizing data vocabularies and definitions by exploring a partnership with Health Level Seven International (HL7).
SIC Webinar: Advancing Stakeholder-Wide Understanding of the Challenges and Pathways to a National Sepsis Data Trust.
Recording of the April 13, 2023 webinar introduction of SIC's new Sepsis Data Community, along with an overview of efforts to date to advance the data needs of the sepsis community.
Recommendations from the NSDTI roundtable.
In January 2022, Sepsis Alliance hosted the inaugural roundtable convening of the National Sepsis Data Trust Initiative. This was the first in a series of meetings during which expert stakeholders will discuss the long-term strategy of NSDTI and the eventual creation of a data trust. Click below to view a summary of the group's recommendations, including rationale, proposed governance principles, and stakeholder roles.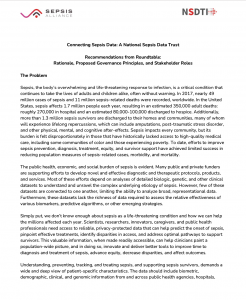 Downloadable NSDTI overview.
Check out this two-page overview of NSDTI's goals and vision. Click below to download!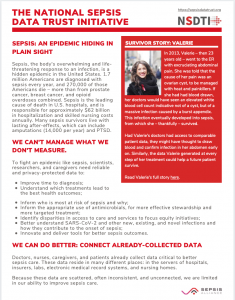 Panel Discussion: Sepsis Patient Data: From Silos to Solutions
At the 2020 Sepsis Alliance Summit, a panel of experts described the value of better data, and shared their lessons and insights. U.S. Representative Mikie Sherrill (D-N.J.) announced her intent to propose legislation to help CDC and states develop the backbone of a national collection of sepsis-relevant data. To view a recording of the discussion, click here.
California Department of Health Care Access and Information Sepsis Data Visualization.
This data visualization from California presents patient information on in-hospital and 30-day mortality, length of stay, and charges and payers for severe sepsis hospitalizations from 2013-2020. These data can teach us a lot about sepsis in California—discover more by clicking below.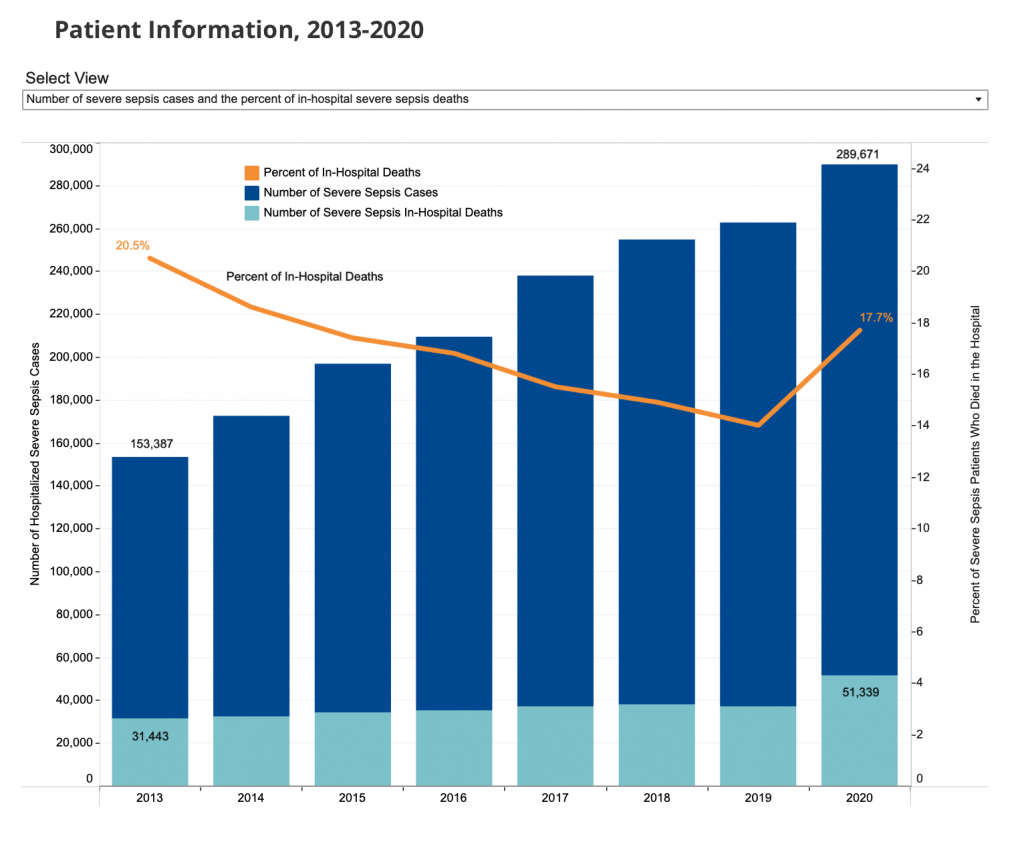 Stay Updated
Sign up for Sepsis Alliance's advocacy newsletter to stay up-to-date on legislative efforts to enable a national sepsis data trust.